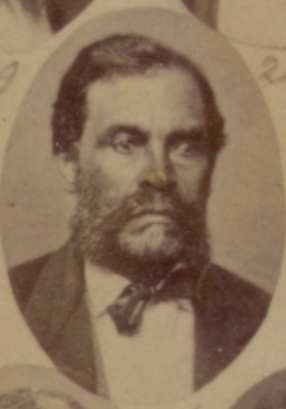 Benjamin Chiles (Oktibbeha County)
State House: 1874-1878
Born: June 22, 1825 in South Carolina
Died: March 20, 1911
Born into slavery in South Carolina, Chiles was brought to Oktibbeha County by John M. Chiles in 1837. According to an 1879 newspaper article, he was committed to the state asylum.
Ben's younger brother, George Washington "Wash" Chiles, was a mail carrier, a member of the Board of Education Commissioners, a member of the police board, and a Mason. More information about him can be found in Henrietta Outlaw's slave narrative in George P. Rawick's The American Slave: A Composite Autobiography, Supplement Series I, Volume 7, p. 391.
"Colonel Muldrow, a man of marked ability, afterwards grand cyclop of the local Ku Klux Klan and congressman for years from the Oktibbeha district, was elected a member of the State legislature along with Ben Chiles, an ignorant colored man, at a time when there were eight hundred more negroes than white men registered in Oktibbeha county.
As Muldrow voted so voted Ben Chiles. Whenever a vote was called for or an opinion asked, Ben would say 'I must see my friend Colonel Muldrow.' It was well for Oktibbeha county and the State that Muldrow was there and that he was consulted.
[…]
During this period many negroes were elected to office in Oktibbeha county. Ben Chiles, already mentioned in connection with Colonel Muldrow, was in the legislature as were also Randall Nettles, Caesar Simmons, and Anderson Boyd. All these 'legislators' have long since passed away with the exception of Ben Chiles and Randall Nettles. For years Ben was a well known character on the Starkville streets and has only recently died. When joked by the young white
men with reference to his career in the legislature he would retort 'Honey that sho is one place where you can never go' — or words to that effect."
(F. Z. Browne, "Reconstruction in Oktibbeha County," Publications of the Mississippi Historical Society, Volume 13, 1913)
Links:
Memorial for "Wash" Chiles on Find A Grave